President Trump's America First agenda, to address his predecessors Policy failure that led to the declining of the U.S industrial and manufacturing might and glory of yesteryear. Synonyms to the nostalgically recalled "Make America Great Again".

By Adebayo Adeshina, (M00609152), Mdx, London 28/11/2017
https://www.google.co.uk/amp/bigthink.com/strange-maps/the-world-according-to-trump.amp
Donald J. Trump's political ideology and strategic plan is isolationist with some Reformist principles. His recent trips to 12 Asian States for business deals amongst other matters is an evidence of his reformist agenda. Particularly his utterance of the 13th Nov 2017, during the trip is certainly a direct attack on Globalisation, and International Political Economy as we know it. Phrases such as "We cannot continue to allow China to rape our country and that's what they are doing- Donald Trump". Support this assertion. However, Jack Ma's Brilliant response to same utterance, help re-enforce the facts that some of the key principles of Globalisation, and International Political Economy are partially responsible for the American's declining industries and unemployment.   Jack Ma's, 13th Nov 2017. Argued that "it was America Foreign and domestic policy for the past three decades that has raped the country". The policy of outsourcing manufacturing and industrial work to China and Mexico etc. At the same period, U.S fight's a total of 13 wars, spending 14.2 trillion dollars in the last 30 years on wars, as opposed to carrying-out infrastructural developments programme that would have created non-white collar Jobs for the middle & low-class citizens of United States, https://www.beingguru.com/2017/11/jack-mas-brilliant-response-to-donald-trump/ and https://www.graphicnews.com/en/pages/35927/POLITICS-Trump-tour-of-Asia#.Wgq5ou4CxpU.mailto
Furthermore, Thomas wright, also argued that Trump's Protectionist ideology has three main under-pinning and fundamental principles, which are; firstly, his opposition to US Current Alliances, Secondly, his opposition to free trade; and thirdly his support for Authoritarianism. If these principles decrypted into policy by the current administration. This will finally lead to US forsaking the Liberal international tactics that President Trump's predecessors have developed and practiced since after world war II, for the rebirth of a new World Order.  Thomas Wright further maintained and placed Trump's foreign policy in an ideological and historical context purely on Trump's fundamental principles, which are contrary to the past Republican president's international affairs beliefs since the 1980s.   https://www.brookings.edu/program/foreign-policy/  With the above assertions, its seems like President Trump is strategically moving away from both parties and his forerunners Ideologies nonetheless maintaining certain concepts of the Republican party. Therefore, he is a Reformist with Isolationist conceptual perspective! According to "Perry, J & Perry, E (2009) A Reformist, aim to make incremental changes to existing society.
For instance, the withdrawal of the United State from being one of the signatory to the Trans-Pacific Partnership Negotiations and Agreement, in favour of bi-lateral one-on-one deals (TPP). That's President Trump's America First agenda failed to take into considerations the International Institutions rationale for setting up Trade Blocs. These alliances, they claimed enable Businesses to gain, ensure, and promote comparative advantage amongst members states and that it helps facilitate more efficient political unit in globalized world. Whilst those against setting up a Trade Blocs like President Trump argued that trade Blocs, promote trade diversion rather than free trade. it's is protectionist (or more so) than states and that it distorts world markets Albrow, M, Eade, J, Washbourne, N and Durrschmidt, J (1995).
https://www.theguardian.com/us-news/2017/jan/23/donald-trump-first-orders-trans-pacific-partnership-tpp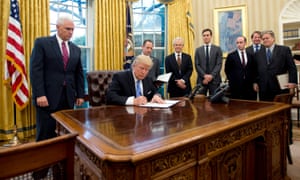 Adams Nager (July 1, 2015) Manufacturing: A Global Competitive Landscape….Can the US Keep up?http://cerasis.com/2015/07/01/manufacturing-labor-productivity/
Trump's decision not to join the Trans-Pacific Partnership (TPP) was expected. As in his opinion the international trade deals, are responsible for US citizens job losses and focusing anger in the industrial heartland. Although TPP was never ratified by the Republican-controlled Congress, but several Asian leaders had invested substantial political capital in it. Their countries represent roughly 13.5% of the global economy, according to the World Bank. Similarly, on June 1, 2017 President Trump pulled the U.S. out of the non-binding Paris Climate Change Accord, hoping to begin re-negotiations to re-enter the agreement and make it "fair" to the U.S. the same situation with Iranian nuclear deal, demonstrating another contempt for International Institutions. Trump presents himself as a businessman and as an anti-politician. He emphasizes on America First and tries to create easy environment for states that heavily rely on traditional energy as an industry. Trump proposed the America First Energy Plan, in which he intends to re-stimulate the U.S. fossil energy industry.
Smith, Lisa. "Globalization: Progress Or Profiteering?" Investopedia. Investopedia, LLC., 28 Jan. 2007. Web. 28 May 2015. Lisa argued that Globalization enables inward and outward investment and helps businesses move money around the globe, ensuring access to different markets. This is how Globalisation has enable the industrialized nations to profit from cheap labour around the globe and this process is known as outsourcing. She claimed that Globalisation also ensures skills and technology advancement that may not get to the developing nations swiftly, thereby enable them to catch-up with 1st world in that regards.  Critics of globalization argued that outsourcing is like a double-edged sword, in that hiring a firm outside your company/country to perform work that are supposed to be performed in-house usually affect jobs and eventually the country economy on long-term.  https://www.investopedia.com/articles/07/globalization.asp#ixzz4z6JoAieZ
Bibliography
Albrow, M (1990) 'Introduction' in M.Albrow and E.King (eds.) Globalisation, Knowledge and Society London: Sage
Albrow, M, Eade, J, Washbourne, N and Durrschmidt, J (1995) "The impact of globalization on sociological concepts: Community, culture and milieu" Innovation: The European Journal of Social Science Research 7:4, 371-389,
Buncombe, Andrew. 2017. "Why Obama And Bush's Synchronised Attacks On Trump Matter". The Independent. http://www.independent.co.uk/news/world/americas/us-politics/obama-bush-trump-attack-speeches-criticism-president-why-it-matters-history-a8011781.html.
Donald Trump October 30, 2017, Biography, Editors, TheFamousPeople.com, https://www.thefamouspeople.com/profiles/donald-trump-3378.php
David Harvey (2007) 'The Neoliberal State' in A Brief History of Neoliberalism (Oxford University Press)
Diamond L. and Morlino L. 2004 'The quality of democracy: An overview' Journal of Democracy, 15(4), pp.20-31. http://www.uni-klu.ac.at/wiho/downloads/QoD-text_03.pdf.
Diamond L. (2015) 'Facing up to the democratic recession' Journal of Democracy 26(1): 141-155.
Diamond L. and Morlino L. 2004  'The quality of democracy: An overview' Journal of Democracy, 15(4), pp.20-31. http://www.uni-klu.ac.at/wiho/downloads/QoD-text_03.pdf.
Economist Intelligence Unit Democracy Index 2015 http://www.yabiladi.com/img/content/EIU-Democracy-Index-2015.pdf
Hague, R. and Harrop, M. (2010) Comparative Government and Politics. Palgrave, Macmillan
Heywood, A. (2013) Politics (4th edition) London: Palgrave Macmillan (koretext) Ch.4
Held, D (1995) Democracy and the Global Order: From the modern state to global governance Cambridge: Polity Press
International Labour Office (2005) Changing Patterns in the World of Work Geneva: ILO
ILO (2015) World employment and social outlook 2015: The changing nature of jobs Geneva: ILO, 2015 http://www.ilo.org/wcmsp5/groups/public/—dgreports/—dcomm/—publ/documents/publication/wcms_368626.pdf
Obama B (2016) https://www.youtube.com/watch?v=72bHop6AIcc
John Ravenhill (2011) 'The Study of Global Political Economy' Chapter in Global Political Economy (OUP 3rd edition), pp. 3 – 19.
Kaldor, M (2003) "The idea of a global civil society" International Affairs, 79, 3 pp.583-593
Klein, N (2008) Shock Doctrine: The Rise of Disaster Capitalism London: Picador
OECD (1995) Globalisation: What challenges and opportunities for Governments? Paris: OECD
Kees Van der Pijl (2009) 'From Classical to Global Political Economy: A Survey of Global Political Economy' (Version 2.1 Centre for Global Political Economy, University of Sussex) pp. 1 – 29. Available at http://www.sussex.ac.uk/ir/documents/091theories.pdf
Lewis, D. (1987). The public image of Henry Ford. Detroit: Wayne State University Press.
Monbiot, G (2004) Age of Consent: A manifesto for a new world order London: Harper Perrenial
Marshall, T.H. (1950) Citizenship and Social Class, Cambridge: Cambridge University Press
McRae, Hamish. 2017. "Donald Trump Vowed To 'Make America Great Again' – And Bombardier Shows He Doesn'T Care Who He Tramples On To Make That Happen". The Independent. http://www.independent.co.uk/voices/bombardier-boeing-donald-trump-maga-us-american-jobs-free-trade-protectionism-a7970096.html.
Perry, Barbara. 2017. http://Barbara Perry, director of presidential studies University of Virginia's Miller Centre.
Paris Agreement – Climate Action – European Commission". 2017. Climate Action – European Commission. https://ec.europa.eu/clima/policies/international/negotiations/paris_en.
Presidential Actions". 2017. Whitehouse.Gov. https://www.whitehouse.gov/briefing-room/presidential-actions?term_node_tid_depth=46.
Pevehouse, Jon C, Jeffrey Haynes, Peter Hough, Shahin P Malik, Lloyd Pettiford, Joseph S Nye, David A Welch, and Donald M Snow. 2012. International Politics. Boston: Pearson Learning.
Perry, J & Perry, E (2009) Contemporary Society: An Introduction to Social Science Boston, MA: Pearson
Schawb K (2015), The Fourth Industrial Revolution, Foreign Affairs, https://www.foreignaffairs.com/articles/2015-12-12/fourth-industrial-revolution
Robert 0. Keohane, "Reciprocity in International Relations," International Organization, Vol. 40,
No. 1 (Winter 1986), pp. 1-27.
The Fela Durotoye Co. 2017. Feladurotoye.Net. http://www.feladurotoye.net/.
Titmus, R.M (1958) Essays on the Welfare State London: Allen and Unwin
Woodson, Jacqueline, and Earl B Lewis. 2004. Coming On Home Soon. New York: G.P. Putnam's Sons.
"What's New". 2017. Globalpolicy.Org. http://www.globalpolicy.org/.
By Adebayo Adeshina, (M00609152), Mdx, London 28/11/2017